My favorite thing about Netrunner is that you can build you deck with ridiculous combos and still have a competitive deck.
Because of the pace of the game, the smaller deck sizes, and all the card draw and tutoring, you can easily put together a combination of cards that advance your game plan. Unlike other games, these combos don't have to win you the game outright on their own. They can be creative ways to generate resources, a new way to attack the opponent, or simply a way to spotlight a favorite card.
When I'm building Netrunner decks, I often start with a two-or-more card combo, then find other pieces that support and synergize with it.  Below I've listed out five such combos that you can use as starting points for your first decks. I've put the sets in brackets, so you know what set to find these cards in.
Panchatantra + Gingerbread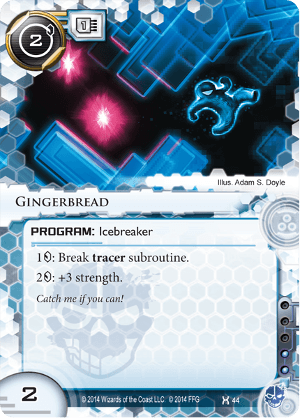 At it's core, Netrunner is about megacorporations trying to advance their secret agendas, and elite hackers trying to find the correct tools to break through the corps' defenses. So what if you knew you could always have the correct tool to break at least one piece of ICE a turn? This combo makes that an easy reality.
Gingerbread [Honor and Profit] is a fairly efficient ICE Breaker (and pretty darn cute). But it comes with a substantial restriction – it can only target a small subset of ICE. That's where Panchatantra [Kala Ghoda] comes in. Now, once per turn you can make sure you'll see a piece of ICE you can break.
Support Cards: Deus X [A Study in Static], Sharpshooter [True Colors], Inside job [Core Set], Femme Fatale [Core Set], Dinosaurus [Cyber Exodus].
Frantic Coding + Retrieval Run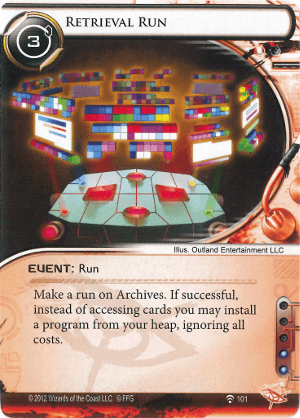 Hey Magic players! What would you pay for a card that says "Look at the top 10 cards of your library. Cast one of them with converted mana cost 5 or less, and put the rest in your graveyard"? The closest card I can think of is Collected Company. It costs 4cc, has significantly more restrictions, and still dominated standard for an entire season.
In Netrunner it's called Frantic Coding [Intervention], and it only costs three.
Now how would you feel about a card that said, "Pay 3. Put a card in your Graveyard onto the Battlefield, ignoring all costs." Well, you can do that in Netrunner with Retrieval Run [Future Proof].
Put these two cards together, and you get to look at 10 or more cards, and choose two of them to put into play. All it costs is 6 credits.
Support Cards: Inject [Up and Over], Scavenge [Creation and Control], Paperclip [Blood Money], Black Orchestra [Escalation], Exclusive Party [Salsette Island], Same old Thing [Creation and Control].
Geist + Faust
Let's get back to breaking all the ICE we see.
Faust [The Underway] has already been established as one of the most powerful cards in the game. The ability to beat ICE for zero credits cannot be overlooked. It has been an essential tool in multiple tier-one decks since it was released. The only limitation Faust has is that you have to keep a large number of cards in hand keep the pressure up.
Enter Armand "Geist" Walker: Tech Lord [The Underway]. Now you don't need to dedicate resources and clicks to draw cards. You get paid off just by cashing in on other valuable effects.
Support Cards: Sports Hopper [Salsette Island], Tech Trader [Business First], Street Peddler [The Underway], Fall Guy [Double Time], Crescentus [A Study in Static].
False Echo + DDoS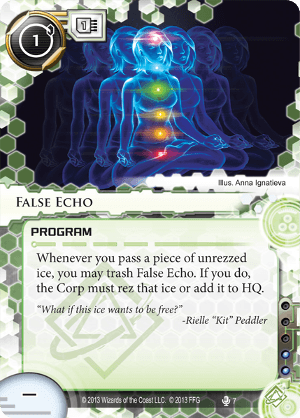 I believe there are two basic strategies for Runners: 1. Set up a rig that can crack through and server; 2. Keep the Corp so poor that they cannot advance their game plan. This combo dives deep into that second strategy.
The advantage the Corp has in every game is that their cards come in face down, and the Runner doesn't know what they are until the Corp activates it. DDoS [The Universe of Tomorrow] flips that dynamic on it's head. Now the Runner can attack any server and know they won't be ambushed by an inactive piece of ICE.
When you add False Echo [Opening Moves], you force the Corp to put that card back into their hand. If you want to get really tricky, you can run a server with two unrezzed ICE. Activate DDoS and use False Echo on the first card. Then jack out and run again. Now there is a new outermost piece of ICE on the server and it can't be rezzed either.
Support Cards: Clone Chip [Creation and Control], Blackmail [Fear and Loathing], Keyhole [True Colors], The Turning Wheel [The Liberated Mind], Medium [Core Set].
Brahman + London Library
On of the keys to finding cool combos is identifying a card's potential downside, and figuring out how to turn it into a benefit. Netrunner, more so than any other game, rewards you for finding these micro-interactions. Take for example Brahman [Salsette Island]. Clearly, he appears to have a powerful upside. Breaking two ICE Subroutines for a single credit is one of the best rates in the game. But his downside is real too. Adding a program to the top of your deck is worth two clicks (the draw and the install).
How about London Library [Breaker Bay]. This is another card with substantial upside – install a card for free. This card too has a substantial penalty. If you don't use a click (a full 1/4 of your turn) you lose the program for good.
Put both of these cards together, and you end up with some serious chocolate and peanut butter action. Every turn you can install an expensive program with London Library for free, get the benefits from it, then use Brahman's "downside" to save it. Maybe you want to reset some counters. Maybe you want to reset some targets. Either way, these two cards make up the core engine that can be tailor-made to annihilate your opponents.
Support Cards: Oracle May [Honor and Profit], John Masanori [Opening Moves], Femme Fatale [Core Set], D4v1d [The Spaces Between], Sahasrara [Creation and Control], Scheherezade [Second Thoughts].
Combo Plate
One of my favorite parts about Netrunner is how you can take a card that is completely useless on it's own, and shape it into the centerpiece of a fun and competitive deck. What are you favorite Runner combos? Sound off in the comments below.