What's better than being among the first folks to crack open Kaladesh packs and battle with the zany inventions of Kaladesh? How about doing it for only $10?
That's right, Win Condition Games is hosting a blow-out prerelease weekend. Come and join us for the most fun you can have playing Magic. We're firing off at least 6 events from September 23-25, so there's always fun to fit your schedule.
For the first time ever, we're rewarding you just for playing. Your first prerelease event only costs $25, but if you want to play more, we'll knock $5 for each new event. That means if you play in all 5 events, you'll only pay $10 for the last one.
But wait, there's more! For every event you join, you also get a raffle ticket for a free booster box of Kaladesh!
Don't miss out. Come and join us at one or more of the events below.

KALADESH PRERELEASE SCHEDULE OF EVENTS
Event #1: Friday, September 23 –  Midnight
Event #2: Saturday, September 24 – Noon
Event #3: Saturday, September 24 – 5PM
Event #4: Sunday, September 25 – Noon
Event #5: Sunday, September 25 – 5PM
Event #6 Two Headed Giant: Sunday, September 25 – 5PM
---
IS THIS YOUR FIRST PRERELEASE?
First off, thank you for choosing WCG. Whether you are a brand new player, or are just looking to try out your first Magic event, we think a Prerelease is the most fun you can have. It is our goal to give you a fun, friendly, welcoming environment where you can play with the newest cards. 
What to Expect
Prereleases are a little different than a Standard or Modern tournament. Instead of bringing your own deck, you are given 6 Kaladesh booster pack and a limited edition prerelease foil rare. You'll open up the cards and use them to build a 40-card deck.
After you build your deck, you will be randomly paired with another player, and play a best-of-three match. Each round, you'll report who won, and get paired up with a new player. If you do well, you might even earn some additional packs.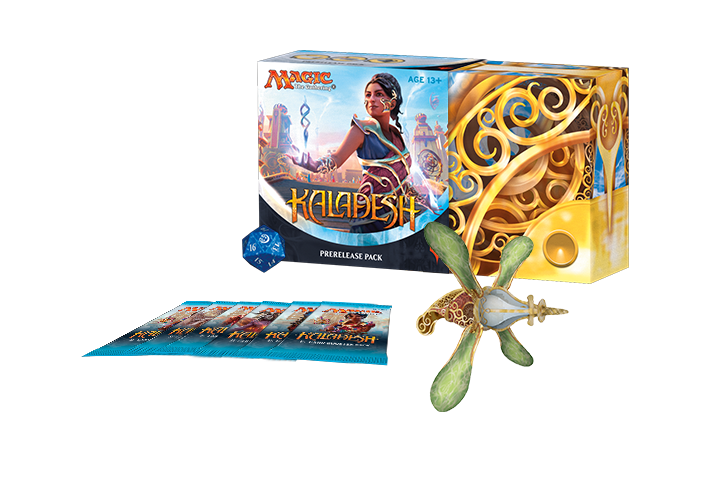 How much does it cost?
At Win Condition Games, a prerelease event costs $25. This gets you entry to the event as well as a Kaladesh Prerelease pack that contains:
A Limited Edition Foil Rare

6 Kaladesh Booster Packs

A Spin Down Life Counter

Deckbuilding Guide

Constructible Thopter
But that's not all. If you play in any additional prerelease events, we'll give you $5 bucks off every time.. That means your second event is only $20 – and you third is only $15. If you are brave enough, you can work all the way down to a $10 event! And of course, in every event, you get a new prerelease pack to build new decks.