Win Condition Games might be expanding our store in Kennesaw, but the construction won't stop your fun. We'll be open – and bigger than ever before- for the Amonkhet Prerelease weekend. Our store is getting cooler, but Prerelease weekend is the same great deal you know and love. Try your hand at the trials of the five gods of Amonkhet, and play in an event for as low as $10!
That's right, Win Condition Games in Kennesaw is hosting a blow-out prerelease weekend. Come and join us for the most fun you can have playing Magic. We're firing off at least 6 events from April 21-23, so there's always fun to fit your schedule.
At Win Condition, we reward you just for playing. Your first prerelease event only costs $25, but if you want to play more, we'll knock $5 for each new event. That means if you play in all 5 events, you'll only pay $10 for the last one.
But wait, there's more! For every event you join, you also get a raffle ticket for a free booster box of Amonkhet!
Don't miss out. Come and join us at one or more of the events below.

AMONKHET PRERELEASE SCHEDULE OF EVENTS
Event #1: Friday, April 21 –  Midnight
Event #2: Saturday, April 23 – Noon
Event #3: Saturday, April 23 – 5PM
Event #4: Sunday, April 23 – Noon
Event #5: Sunday, April 23 – 5PM
Event #6 Two Headed Giant: Sunday, April 23 – 5PM
---
IS THIS YOUR FIRST PRERELEASE?
First off, thank you for choosing Win Condition Games. Whether you are a brand new player, or are just looking to try out your first Magic event, we think a Prerelease is the most fun you can have. It is our goal to give you a fun, friendly, welcoming environment where you can play with the newest Magic the Gathering cards. 
What to Expect
Prereleases are a little different than a Standard or Modern tournament. Instead of bringing your own deck, you are given six Amonkhet booster packs and a limited edition prerelease foil rare or mythic. You'll open up the cards and use them to build a 40-card deck.
After you build your deck, you will be randomly paired with another player, and play a best-of-three match. Each round, you'll report who won, and get paired up with a new player. If you do well, you might even earn some additional packs.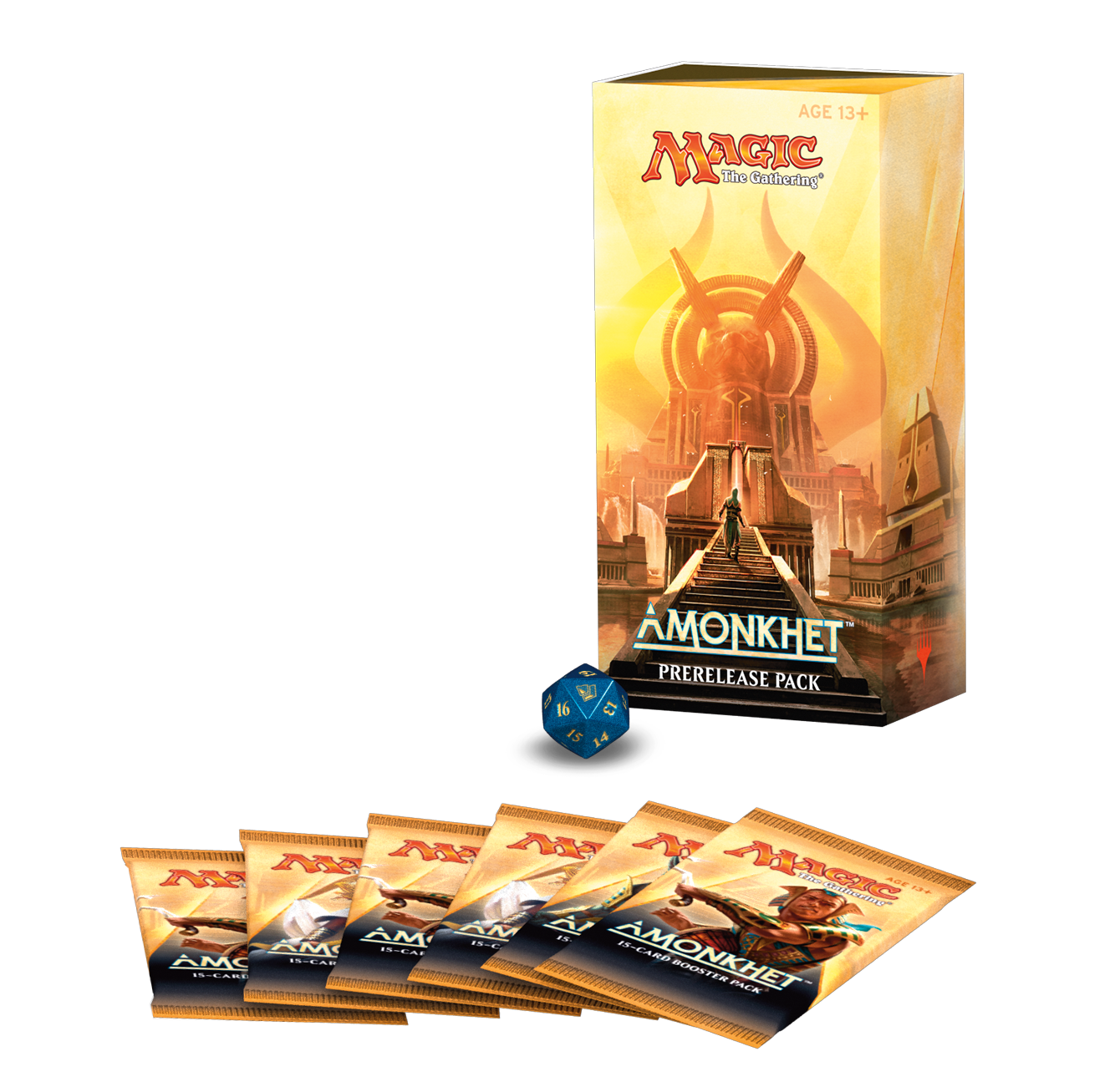 How much does it cost?
At Win Condition Games, a prerelease event costs $25. This gets you entry to the event as well as an Amonkhet Prerelease pack that contains:
A Limited Edition Foil Rare or Mythic

6 Amonkhet Booster Packs

A Special Edition "Laotep" Spin Down Life Counter

Deckbuilding Guide

A Trial Card with More Chances to Earn Special Prizes
But that's not all. If you play in any additional prerelease events, we'll give you $5 bucks off every time.. That means your second event is only $20 – and you third is only $15. If you are brave enough, you can work all the way down to a $10 event! And of course, in every event, you get a new prerelease pack to build new decks.